Welcome to Villa Coco
Private Villa Accommodation in Double Six, Seminyak
Your home away from home
---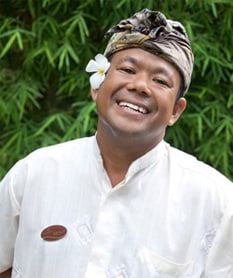 Our pool villa and garden bungalow accommodation is where each room is a private villa offering hotel service within your own Balinese home away from home. We are in a great location, Seminyak, right on Double Six. Close to shops, shops and more shops. Also very close by is a safe patrolled surfing beach, beachside restaurants and nightlife.
The famous Legian beach is just 10 minutes walk and you will be sun-baking and having fun in no time at all. If you are looking for affordable villa accommodation, then try our garden bungalows for the best rates, we are close to everything and with very friendly and helpful staff.
In addition to these one and two bedroom private open living style garden bungalows, we also have one and two bedroom pool villas which make Villa Coco a great option in very lovely surroundings
Read more
Each villa has its own individual entrance with a garden and some with private pools for your comfort while staying with us.
We also have a very large 4 bedroom villa which is ideal for family and friends and very popular for the girls who want to go away for the annual shopping trip.
Choose Villa Coco for your next holiday and enjoy being in the heart of Bali with a friendly and relaxed atmosphere.
Our staff are waiting to help you have a wonderful holiday in Bali, come and experience villa living with hotel service. Come to paradise; you will love it here!
Whilst we will try our best and give you your requested Villa or Bungalow, we must let you know that all are subject to availability.